#16: Spencer Pumpelly – husband, father, racer, pilot, musician, vegan and athlete – how to balance them all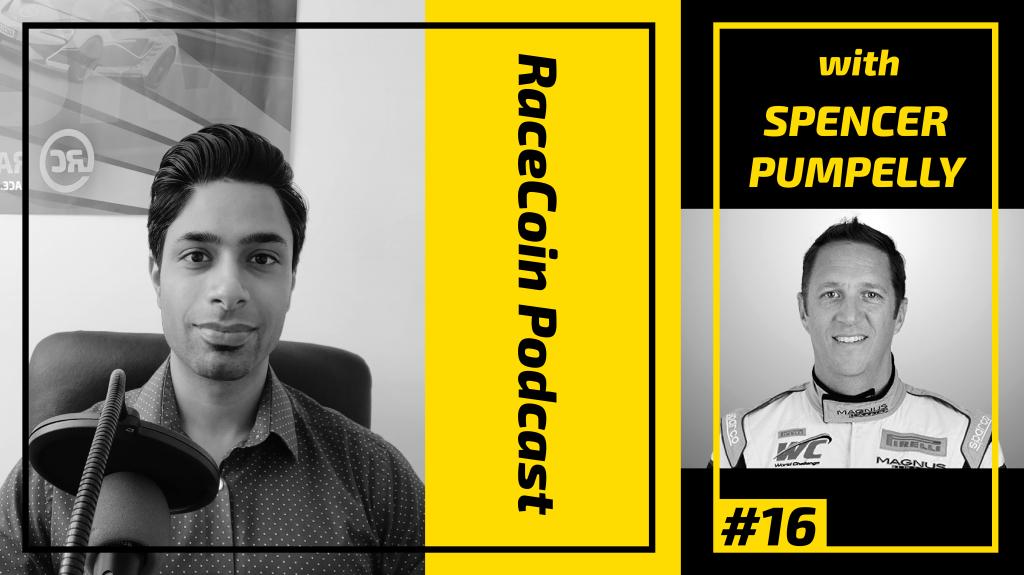 Podcast with Host: Jai Shukla & Guest: Spencer Pumpelly
Q1 – Put all the things in your life – in order?
Being a husband and father obviously, that has to be no. 1. No. 2 has to be a racing driver but it doesn't really define all aspects about me. No. 3 – a runner, athlete. Spencer Pumpelly competes in the 10k and 5ks locally. 2-3 times a week. 60,000 people racing right near my house in Atlanta. His helicopter license doesn't happen often but Spencer Pumpelly loves it too.
Q2 – You grew up watching your father race – how did that affect you?
My mum and dad both supported me. My dad took me to the tracks when I was young and when I saw him in the late 80s, where he did the whole championships. He told me not to do it but the 90s was a time where people were still dying from it.
Q3 – You started in 1996 – so it's been over 20 years how have things changed?
The car was loud, bumpy – and when you get into the kart – it makes noises, laying down in it, and helmet on its different. 3 days of training were over – but Skip harbor was where I tried to make my first steps.  
Q4 How does your vegan diet get affected by being on the road and in different places?
My favorite track in Virginia – there aren't many options there. But some places don't have much. But you go to the same places to race so you know all the places and have 4 nights with 20 different places to choose from. So you don't really have to worry. A Couple of months later it's easier. My dad had heart issues – so it's something I wanted to live better and think about my health. My cholesterol has come down by 100 points.
Q5 – How do you still fill the role of being a father and husband while being away on the road so much?
Spencer Pumpelly lives in Atlanta which is awesome as its pretty close. For the most part, his trips are only 3-4 days and direct flights. 2-3 weeks stints I try and reduce it.
Q6 – How many holidays do you squeeze in?
A couple of months of downtime – which is awesome during winter. If you can secure the next year's stuff then you are sorted.
Q7 – You are coaching too – is that helping you become a better driver?
Teaching for me in Skip harbor has taught me a lot more about driving than learning. Teaching concepts you have in your own head while you are speaking to people who have never done it before, you get challenged. First few times you get asked you to make up and answer and then you realize you don't understand the answer. You therefore try and find a solution to that to ensure you have a better understanding and can answer it properly. Racing to be is like problem-solving and whatever it maybe – you have to understand these concepts better. It's improved my weekends. Driving is a small part of racing and it helps with many parts to it.  
Q8 – What do you do to stay at your best?
It changes every week. Sebring – our test day, we had to take a worse line because we had to avoid the bumps – This challenge won't be used to again. It's my team is when I've won.
Q9 – What are the aspects to driving people don't know?
Only the driver feels what it's like to be in the cockpit. People don't get a sense of what's going on inside. Getting the car to comply – the guy who wins – is when you have the best cars. Some days it's about keeping the car on the track – when it's trying to kill you. You got to have good people with you to make it happen on the day and work out smoothly on the track.
Q10 – What's going through your head when racing?
The car you know very early if it's on your side. There is big-picture vs small picture. The small picture is things like how am I going to go round this corner and stay on the track – and the big picture is how long do I have left vs how much do my tires still have left in them. The strategy is about other's positions – tactically what is important right now? T
Q11 – You've had a lot of victories – what are memorable moments?
I won Daytona in 2006 that was amazing as I saw my dad driving there. Heartbreak, when you think, could have would have, should have. The take away is that you will always have challenges that you don't expect and having people you can rely on – whether that's co-drivers, managers, strategists, engineers, the crew guys, that can fix something that has never broken before, they come down to the pit road and they fix it without you losing any more than a few seconds – having those types of people is very valuable.
Q12 – When did you start playing the guitar?
When I was really young and my wife – told me to get a real guitar. When my son got older, we played ACDC, guns, and roses. At the age of 3.5 years old! We put a couple of songs together. With a little amp – and started playing and then started a little band. At 6.5 years old now – he's got even cooler things to do.